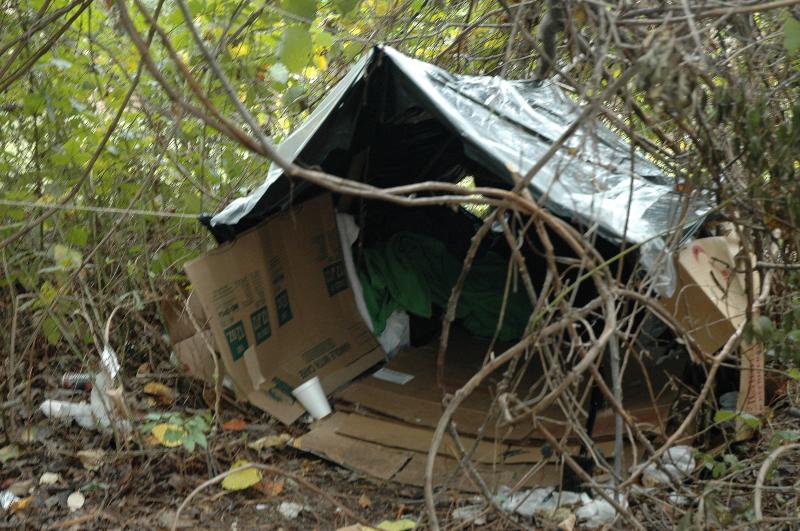 (11-24-17) This is one of the best stories about homelessness that I've read. Thank you  at The Washington Post for writing it. Among the take-aways: most of these folks had been through recovery programs yet have not become engaged in treatment? Why?
Another take-away: a homeless woman who has been diagnosed with a serious mental illness agreed to see a psychiatrist when she spoke to a treatment team but disappeared when a psychiatrist came looking for her. She preferred to continue "self medication."
And finally, the quote: "Most of our folks think they will die alone, that their future is canceled. Bringing hope is more important than any medicine."  It's a great reminder that it takes a personal connection to connect in a meaningful way with another person.
These are all truths that I learned personally when I spent time with homeless workers in Washington D.C.'s Georgetown neighborhood with Gunther Stern, who runs Georgetown Ministries street outreach team.
In the woods and the shadows, street medicine treats the nation's homeless
By 
The Washington Post on Thanksgiving Day.
Nurse Laura LaCroix was meeting with one of her many homeless patients in a downtown Dunkin' Donuts when he mentioned that a buddy was lying in agony in the nearby woods.
"You should check on him," said Pappy, as the older man is known. "But don't worry, I put him on a tarp, so if he dies, you can just roll him into a hole."
LaCroix called her boss, Brett Feldman, a physician assistant who heads the "street medicine" program at Lehigh Valley Health Network. He rushed out of a meeting, and together the two hiked into the woods. They found Jeff Gibson in a fetal position, vomiting green bile and crying out in pain from being punched in the stomach by another man days earlier.
Feldman told him he had to go to the hospital.
"Maybe tomorrow," Gibson replied.
"Tomorrow you'll be dead," Feldman responded.
Months later, the 43-year-old Gibson is still in the woods, but this time showing off the six-inch scar — for a perforated intestine and peritonitis — that is evidence of surgical intervention. He greets Feldman warmly. "You're the only person who could have gotten me to the hospital," he says. "You're the only person I trust."