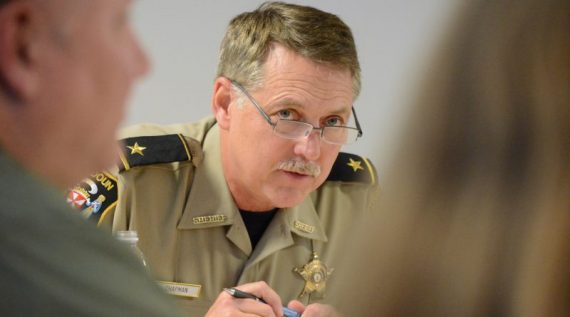 (4-19-18) I posted a letter Tuesday (17th) from a father in Loudoun County, Virginia who called the Sheriff's Office for help when his son's mental illness became difficult for the family to handle. The father complained about how Crisis Intervention Team trained deputies and the overall department handled the situation. 
This father's son was released from the detention center yesterday (18th). By that time, he had spent seven days in a hospital receiving care and 30 days in jail, including five days in the Riverside Regional Jail two hours away from his home on suicide watch naked in a single cell.
He has been charged with seven misdemeanors and the father questioned in his letter why his son ended up being charged, arrested and held for a month without bond when his family called seeking help.
I forwarded his complaint to Loudoun County Sheriff Mike Chapman.   I am posting his version of events in its entirety unedited and without comment. I feel it is important for him to have an opportunity to respond and appreciate him doing so.
Given that this young man already has spent 30 days in jail, I hope the charges against him will be dismissed when he appears in court next month and he is able to get meaningful community mental health care. 
Loudoun County Sheriff's Office
Dear Mr. Earley,
I am in receipt of the article you published entitled, "I Called Loudoun County Deputies for Help. Instead My Son Was Jailed. Hospital: 7 days. Jail:29 days and Counting." As the facts and circumstances contained in your posting on behalf of the complainant are inaccurate, please allow me to address them factually, step by step. I think this is important as this response will serve to educate the general public regarding the intersection of mental health and criminal justice, mandated processes within the Commonwealth of Virginia, and the paramount importance of safety as it pertains to citizens suffering a mental health crisis, family members surrounding these individuals, and the safety of responding law enforcement officers.