Since the publication of CRAZY, which refers to our mental health system and not persons with mental illness, Pete Earley has visited 46 states and three foreign countries advocating for mental health reform. In 2011, he is offering groups four different presentations: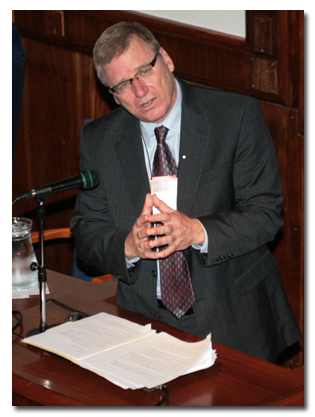 CRAZY: A Father's Search Through America's Mental Health Madness describes Pete's attempts to help his son, Mike, after he is denied treatment during a psychotic break and is arrested. Pete explains why jails and prisons have become our new asylums, why this is wrong and what we need to do to turn mental health back into a health issue instead of continuing to make it a criminal justice problem.
Hopeless No More is intended as a follow-up talk to groups that already have heard CRAZY. Pete describes successful recovery programs that he has visited during his travels including, Housing First, ACT teams, Crisis Intervention Training, Mental Health Courts and Peer to Peer support.
Inside A Traitor's Mind – Pete is the only journalist to have interviewed two of our nation's most notorious traitors – John Walker Jr., head of the 1980s Family of Spies espionage ring; and Aldrich Ames, the CIA turncoat who paralyzed U.S. intelligence in Moscow during the height of the Cold War. He is also the biographer of the late Sergei Tretyakov, the highest-ranking Russian intelligence officer ever to defect to our side. Pete describes why Walker and Ames betrayed America and how their treachery differed from Russia's top Judas in this true-life spy speech.
"Minds on the Edge" Program – Minds on the Edge is an hour-long, Fred Friendly program that explores our current mental health and legal system. After showing the PBS broadcast, Pete will lead a discussion with your local officials to discuss how the issues in the broadcast are being addressed in your area.
If you are interested in having Pete speak, please e-mail him.
Scheduled Speeches in 2014
January 27, 2014, Boise, Idaho
NAMI Idaho Board Meeting/Legislative Event
January 31, 2014, Charleston, S.C.
South Carolina Psychiatric Association
March 12, 2014  Warsaw Poland
April 17, 2014 Washington D.C.
Private Government Agency
25, 2014, Gainesville, Florida
Gainesville Opportunity Center &
Grand Rounds, University of Florida
May 4th, 2014 Washington D.C.
National Council for Behavioral Health National  Convention
May 10, 2014  Detroit, Michigan
NAMI Michigan State Conference
June 17, 2014 Charlottesville, Virginia
Virginia State Community Service Boards
October 3, 2014 Springfield, Illinois
Illinois Association of Problem Solving Courts
October 7, 2014 Goshen, Indiana
Oaklawn Foundation Luncheon
October 15, 2014  East Stroudsburg, Pa.
Pocono Health System