Since the publication of CRAZY, which refers to our mental health system and not persons with mental illness, Pete Earley has visited 46 states and three foreign countries advocating for mental health reform. In 2011, he is offering groups four different presentations: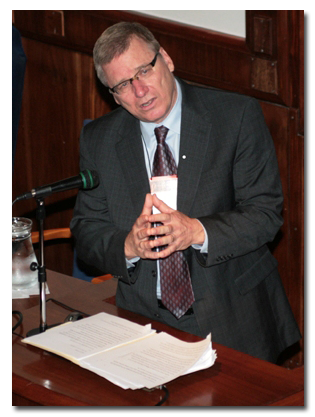 CRAZY: A Father's Search Through America's Mental Health Madness describes Pete's attempts to help his son, Mike, after he is denied treatment during a psychotic break and is arrested. Pete explains why jails and prisons have become our new asylums, why this is wrong and what we need to do to turn mental health back into a health issue instead of continuing to make it a criminal justice problem.
Hopeless No More is intended as a follow-up talk to groups that already have heard CRAZY. Pete describes successful recovery programs that he has visited during his travels including, Housing First, ACT teams, Crisis Intervention Training, Mental Health Courts and Peer to Peer support.
Inside A Traitor's Mind – Pete is the only journalist to have interviewed two of our nation's most notorious traitors – John Walker Jr., head of the 1980s Family of Spies espionage ring; and Aldrich Ames, the CIA turncoat who paralyzed U.S. intelligence in Moscow during the height of the Cold War. He is also the biographer of the late Sergei Tretyakov, the highest-ranking Russian intelligence officer ever to defect to our side. Pete describes why Walker and Ames betrayed America and how their treachery differed from Russia's top Judas in this true-life spy speech.
"Minds on the Edge" Program – Minds on the Edge is an hour-long, Fred Friendly program that explores our current mental health and legal system. After showing the PBS broadcast, Pete will lead a discussion with your local officials to discuss how the issues in the broadcast are being addressed in your area.
If you are interested in having Pete speak, please e-mail him.
(Pete is happy to work with professional speaking bureaus if he is contacted by one on your behalf.  However, he is not represented by any agency and will deal directly with your group. Please note that most agencies add a 30% fee.)
Speeches Scheduled for 2013
January 6, 2013
Grand Rounds
Psychiatric Institute of Washington
4228 Wisconsin Avenue NW
Washington DC
Closed to public
February 19th, Clearwater Beach, Florida
Alliance for Children and Families
Senior Leadership Conference
Sheraton Sand Key Resort
March 8th, Loudon County, Va.
The Loudoun Crime Commission monthly luncheon meeting
Friday, March. 8, 2013, 12:30 to 2:00 pm.
Belmont Country Club in Ashburn
April 4th, Arlington, Texas
27th Annual University of Texas Arlington Psychiatric Nursing Symposium
Hilton Arlington
April 13/14, Boulder Colorado
Interfaith Network on Mental Illness
Contact the Rev. Alan Johnson at
[email protected]
April 19, Akron, Ohio
Alcohol, Drug Addiction, and Mental Health Services Board
Details to come/ stay tuned.
April 22, Frederick, Virginia
Spy speech closed to public
May 15th, Seattle Washington
Sound Mental Health gala
Sheraton Downtown
May 30, Cocoa Beach, Florida
Mental Health and Public Safety: A Community Conversation
Hosted by Sheriff Wayne Ivey, State Attorney Phil Archer, Public Defender Blaise Trettis
In Partnership with Florida Partners in Crisis and National Homeless Veterans Support
8:30 a.m. until 4:15 p.m.
Simpkins Center, Brevard Community College
CEUs and CLEs will be offered
June 18th and 19th, Philadelphia, Pa
Attending, but not speaking at Opening Closed Doors Invitational Conference
Hosted by Mr. and Mrs. R. James Nicholson, former secretary of the Veterans Administration,
Dr. Lloyd I. Sederer, Medical Editor for Mental Health at Huffington Post and Columbia professor, and Joseph Pyle, MA, President of Scattergood Foundation.
June 24, San Antonio, Tx
Clarity Child Guidance Center Conference
El Tropicano Hotel 110 Lexington Avenue
June 26th, Portland Oregon
Citizens Crime Commission luncheon
Governor Hotel
September 12-13, Virginia Beach, Virginia
Cross systems Collaboration between Legal and Mental Health Partners
Conference sponsored by Department of Virginia Behavioral Health Services
September 18, Dallas, Texas
Meal for the Minds, luncheon
Dallas Metrocare
September 25th, Arlington Va.
Recovery Conference, 7 p.m. Arlington County Central Library,
1015 N Quincy, Street, Arlington VA
Sponsored by Community Services Board Arlington
October 1, Altoona, Iowa
NAMI IOWA Mental Health Conference
Prairie Meadows Hotel and Conference Center
1 Prairie Meadows Drive
Altoona, IA   515-957-3000
October 9, Lansing, Michigan
NAMI
 Hannah Community Center
East Lansing, at 7:00 p.m.
Public welcome. No charge.
October 10, Ann Arbor, Michigan
NAMI Washtenaw County, Michigan
Thursday, October 10, 2013 7-9 PM
University of Michigan Rachel Upjohn Building – Auditorium
4250 Plymouth Road
Ann Arbor, MI 48109
October 12, Land O Lakes, Florida
NAMI PASCO
Autumn Gala Education and Awards
October 12, 2013
6:00 PM – 9:00 PM
October 19, Chicago, Illinois
NAMI Illinois
State Conference
Westin Chicago Northwest, Itasca
Saturday opening keynote.
October 22nd, Gleneden Beach, Oregon
Salishan Resort. Law Enforcement Closed to public
November 7 & 8,  Fayetteville, AR
CRAZY has been selected for the One Book, One Community book
by the University of Arkansas in Fayetteville and the community
for a community wide lecture by Pete and appearances on campus.
Scheduled Speeches in 2014
January 31, Charleston, South Carolina
Keynote at the South Carolina Medical Association Annual Meeting