Since the publication of CRAZY, which refers to our mental health system and not persons with mental illness, Pete Earley has visited 46 states and three foreign countries advocating for mental health reform. In 2011, he is offering groups four different presentations: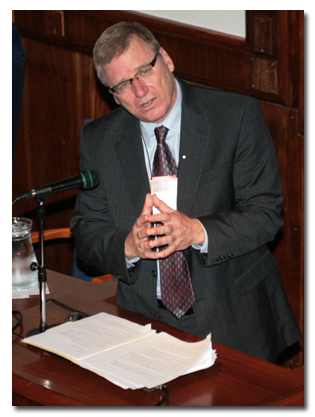 CRAZY: A Father's Search Through America's Mental Health Madness describes Pete's attempts to help his son, Mike, after he is denied treatment during a psychotic break and is arrested. Pete explains why jails and prisons have become our new asylums, why this is wrong and what we need to do to turn mental health back into a health issue instead of continuing to make it a criminal justice problem.
Hopeless No More is intended as a follow-up talk to groups that already have heard CRAZY. Pete describes successful recovery programs that he has visited during his travels including, Housing First, ACT teams, Crisis Intervention Training, Mental Health Courts and Peer to Peer support.
Inside A Traitor's Mind – Pete is the only journalist to have interviewed two of our nation's most notorious traitors – John Walker Jr., head of the 1980s Family of Spies espionage ring; and Aldrich Ames, the CIA turncoat who paralyzed U.S. intelligence in Moscow during the height of the Cold War. He is also the biographer of the late Sergei Tretyakov, the highest-ranking Russian intelligence officer ever to defect to our side. Pete describes why Walker and Ames betrayed America and how their treachery differed from Russia's top Judas in this true-life spy speech.
"Minds on the Edge" Program – Minds on the Edge is an hour-long, Fred Friendly program that explores our current mental health and legal system. After showing the PBS broadcast, Pete will lead a discussion with your local officials to discuss how the issues in the broadcast are being addressed in your area.
If you are interested in having Pete speak, please e-mail him.
Scheduled Speeches in 2015
January 27/28
Salt Lake City, Utah, Public speech and meeting with state legislators by invitation of NAMI UTAH.
February 26
Baton Rouge, Louisiana, Public speech at invitation of the Baton Rouge Area Foundation, Louisiana Arts and Science Museum.
April 17
Linthicum Heights, Maryland., Psychology of Spy presentation. Closed to public.
April 29
Washington D.C. Public meeting sponsored by the Criminal Justice Coordinating Council. .
May 2
Miami, Florida. Stop the Stigma conference hosted by NAMI Miami, University of Miami and the University of Miami Health System. More information at https://www.crowdrise.com/namiconference
May 6
Washington D.C. Green Door Remarkable Journeys Gala. Green Door will be honoring Pete and Kevin Earley. Information and tickets at http://www.greendoor.org/
May 12
Miami, Florida. Mental Health Transformation in Action Conference luncheon.
May 19
Loudoun, Virginia, Meet the Author, Cascades Library, 7 p.m. public welcome. Pete will discuss mental health and RESILIENCE, the memoir that he helped Jessie Close write. 
June 3
Washington D.C.  Mental Health America convention, appearing with Kevin Earley on panel entitled Caring For Your Child With Mental Illness.
July 8 & 9
San Francisco, Ca. NAMI National Convention.
August 17
 Indianapolis, Indiana, American Correctional Association 145th Conference
September 8th
Boston, Massachusetts, NAMI Cambridge meeting at 630 p.m.
September 16
Boston, Massachusetts, Family Celebration Event for Vinfen, 6 p.m. to 9 p.m., at Four Points Sheraton in Norwood, Mass. more information at http://www.vinfen.org/about/ 
September 18 
Washington D.C. Corporation for Supportive Housing Keeping Families Together conference. 12:15.
September 22
Westminister, Colorado, Public Defender Conference. Closed to public.
October 9
Bethesda, Maryland, NAMI Montgomery County Maryland Gala. 6 p.m. Bethesda Marriott, Pete will be honored along with Diane Rehm, host of the Diane Rehm Show at WAMU. More information at www.NAMIMC.org/heroes
October 12
Chicago, Illinois, private function. Closed to public.
October 20
Park City, Utah, Annual Housing Matters Conference by Utah Housing Coalition
October 23
Dallas, Texas, Dallas Hilton Lincoln Center NAMI State Convention. 
October 27
Atlantic City, New Jersey Governor's Conference on Housing and Economic Development. Details to come.
November 3
Washington D.C. National Press Club  Panel on mental health.
November 11
Chicago, Illinois, appearance with Kevin at the Kennedy Forum Illinois. What Families Need to Thrive Panel, Chicago Hilton. 1):30 to 11:30 a.m.
November 12
Carrboro North Carolina, UNC Center for Excellence in Community Mental Health, Gala dinner.