Twenty year anniversary in prison for a crime with a recommended eleven years maximum.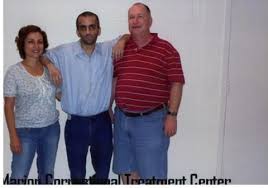 Sana, Christopher, and James (step father). Christopher has spent twenty years in prison for a crime with a recommended maximum eleven year sentence. He has paranoid schizophrenia. 
(Update:  Just to be clear, the Treatment Advocacy Center, which encourages everyone to sign the Sharikas-Campbell family petition calling for Christopher to be pardoned by the governor, has a helpful tool that allows residents of Virginia – and only residents of Virginia — to send a letter to Governor Northam urging him to take action. So, if you live in Virginia, please do so. It's quick and easy. And if you live outside of Virginia, by all means, please sign the petition  to show your support. Sorry for the confusion. These are two different items – a letter for Virginians and a petition for anyone who wants to help.)
(5-22-18) The Treatment Advocacy Center has thrown its weight behind a petition drive to get Christopher Sharikas pardoned by Virginia's governor and transferred to a state mental hospital where he can get treatment for his paranoid schizophrenia.  Hopefully, the National Alliance on Mental Illness, Mental Health America, the Bazelon Center for Mental Health Law and other organizations will join TAC's move.
I first wrote about Christopher's case  in September and tipped off The Washington Post. Its reporter, Rachel Weiner, wrote a detailed story about him that same month.
Here's a quick recap.
Sana Campbell, (her first husband, Christopher's father, is deceased and she has remarried), told me that her son began showing signs of paranoia and schizophrenia in his early teens. His untreated illness became progressively worse and when he was seventeen, voices in his head began commanding him to get to New York City.
Christopher flashed a knife at a woman, then ran away. The police showed up at his house, but no charges were filed. The next afternoon during a worsening psychotic break, Christopher pulled his knife on a 24 year-old woman and demanded her car keys.
Amy Greenwood quickly gave him the keys to her car. Christopher next demanded her purse, which she also handed over. He stabbed her in her back and fled, only to crash her car a few hours later while she was being treated.
Yes, it was a horrific crime prompted by mental illness. No one questions that or excuses it. But Christopher's case soon took several twists, all unfavorable to the ill teenager.