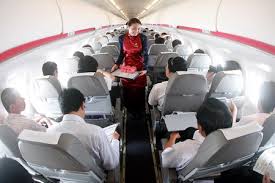 Mental Illness Crisis at 35,000 Feet
By Gabe Howard
When I saw the young woman reach for the cockpit door on a recent cross-country flight, I knew there was going to be trouble.
 A few moments earlier, I had watched her come down the aisle to use the lavatory at the rear of the aircraft near where I was sitting. She tried to open its door but couldn't. She tried again.
 A flight attendant noticed and told her the bathroom was occupied and that she would need to wait her turn.
 The woman insisted the door was just stuck and kept struggling with it.
 I was sitting close enough to see the woman's eyes and what I saw troubled me.  Total anxiety. The fear and confusion radiating off her was as clear as day to me because I had experienced panic and anxiety attacks.
 The flight attendant suggested she try the rest room in the front of the aircraft. The woman started to cry, gasp for air, and whimper unintelligibly, as she returned up the aisle.
Mental Illness can cause confusion.  This confusion, coupled with desperation and fear, can lead to frightening outcomes. When she reached the front, she started to grab various handles in an attempt to gain entry to the bathroom. One of those handles was the cockpit door.