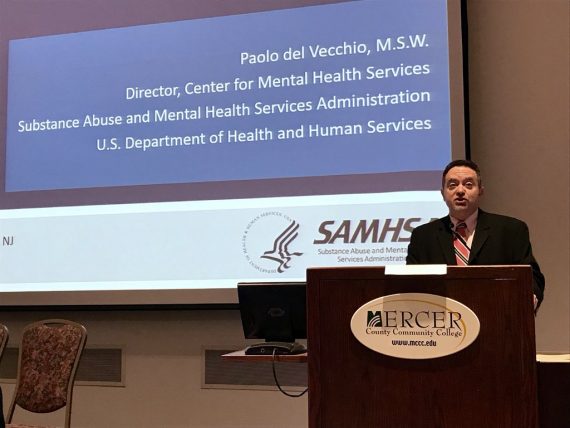 (10-16-18) Last week's news that Paolo del Vecchio is being reassigned inside the Substance Abuse and Mental Health Services Administration sparked a flurry of reactions.
Del Vecchio has served as director of SAMHSA's Center for Mental Health Services (CMHS) for six years and is viewed as a powerful advocate for persons with lived experience. His transfer by Dr. Elinore F. McCance-Katz, Assistant Secretary for Mental Health and Substance Abuse, is being seen by some of del Vecchio's supporters as a sign that the agency is moving away from supporting peer services and the recovery model of treatment in favor of the traditional medical model and paternalism. 
Dr. McCance-Katz's supporters insist del Vecchio's transfer simply reflects her desire to build her own leadership team.
Appointed last August, Dr. McCance-Katz could have fired del Vecchio after her first 120 days in office or demoted him if she wanted to undermine peers and del Vecchio's recovery work as CMHS director. She kept him as one of her top mental health and substance abuse advisors until last week when she asked him to direct SAMHSA's Office of Management, Technology, and Operations, a top post at SAMHSA, but one with less direct oversight of mental health and substance abuse policy.
Said one insider: they simply didn't gel and she has the right to pick her own managers who support her. Said another: she bent over backwards giving him chances but it didn't work.
A third point of view expressed to me is that speculation about del Vecchio's reassignment is resulting in both Dr. McCance-Katz and del Vecchio being wrongly branded.  Her as being anti-peer. Him as not carrying about the serious mentally ill.
Click to continue…