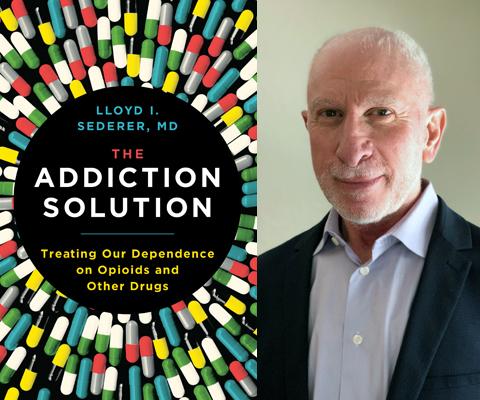 (5-8-18) Helping someone with an addiction is extremely difficult. As parents we are told the mantra: "You didn't cause it, you can't control it and you can't cure it."
But those words ring hollow if you love someone who has an addiction and you are trying to help him or her become well. Add in a mental illness and the difficulties increase.
I'd love to hear on my Facebook page what helped you and your family. Please share any information that led to someone you love beating pills and/or alcohol.
I have read several helpful books and now my friend, Dr. Lloyd I. Sederer, the chief medical officer for the New York State Office of Mental Health, is publishing a book today entitled: The Addiction Solution: Treating Our Dependence on Opioids and Other Drugs.
I greatly admire Dr. Sederer, respect his vast experience, and value his wisdom so I am happy to post an excerpt.
 Kirkus Review praised his book as a "comprehensive work" and explained that Dr. Sederer identifies ten key factors that influence how individuals interact with psychoactive substances and then explains approaches for treating those who become addicted.
Here's an excerpt, printed with his permission, in which he describes the mess we currently are in.
Treating Our Dependence on Opioids and Other Drugs
Substance use, abuse, and dependence are like a plague in this country and throughout the world. We are losing not just our children to this disease, but brothers, sisters, parents, friends, co-workers, and neighbors. The body count from overdose deaths and rewarding lives lost to addiction continues to rise. We have yet to implement solutions that will deliver what is needed to overcome the addictive forces that are eroding our societies.
A major reason why we are failing is a dogged attachment to ideas and efforts that have not worked in beating the plague of addiction. Addiction is still here, unabated. The money we are paying—in this country and throughout the globe—is not just vast; it has sadly often been wasted on unsuccessful campaigns of drug control and on education efforts that rely on stressing the negative consequences of drug use.
       I believe that the biggest problem with so many of the psychoactive drugs, those that work on our brains and minds, is that they are so effective.