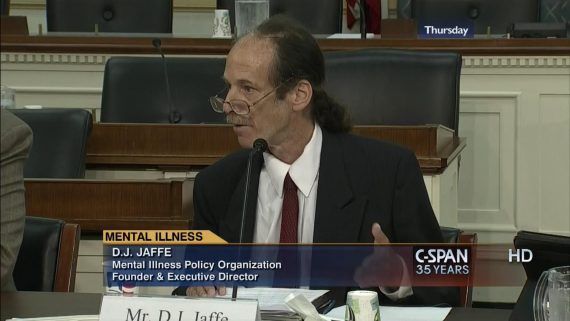 (9-13-18) In the past decade, D. J. Jaffe has emerged as an influential player. He is frequently quoted in newspapers, including yesterday's New York Times and this week's New York Magazine. Despite his criticism of mental health providers – – as outlined in his book, INSANE CONSEQUENCES:  How the Mental Health Industry Fails the Mentally Ill –  Jaffe was invited to give a Ted Talk at the National Council for Behavioral Health's national convention in 2017.
Once active in the National Alliance on Mental Illness and the Treatment Advocacy Center, Jaffe created his own website and organization called Mental Illness Policy. Org., which he now uses as his base.
Jaffe has garnered his share of detractors as well as fans. His ideas are frequently opposed by peer advocates and consumer groups. You might remember that Jaffe was the most vocal of a so-called Focus On Serious Mental Illness platform – four candidates – who ran unsuccessfully for the  NAMI board. He is characterized by some NAMI leaders as a "perpetual bomb thrower" whose primary focus is on Assistant Outpatient Treatment. I recently learned that he had helped scuttle a planned SAMHSA expert panel because he objected to the individuals who SAMHSA had invited to present.
So who is this pony-tailed controversial advocate?  I decided to ask him a series of questions via email.