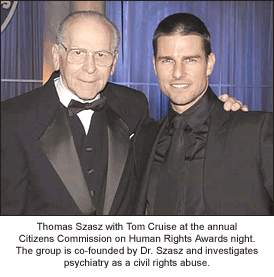 NOTE: THE CITIZENS COMMISSION ON HUMAN RIGHTS was established in 1969 by the Church of Scientology and psychiatrist Thomas Szasz,
(9-7-18) While this article is long, it is well-worth reading because it debunks many of the arguments made by the antipsychiatry movement, which preaches that mental illnesses are merely a "social construct" and not actual illnesses.
PSYCHOLOGY TODAY Article
By Mark L. Ruffalo and Ronald W. Pies.
Psychiatry is unique among the medical specialties in the sense that it has a very active and vocal countermovement known loosely as antipsychiatry.
What started in the 1960s with the writings of psychiatrists Thomas Szasz and R.D. Laing, among others, has since broadened to include a whole host of ideas and philosophies subsumed under "antipsychiatry."
Individuals associated with antipsychiatry may oppose coercive practices in psychiatry; the use or overuse of psychiatric medication; electroconvulsive therapy; or the legitimacy of psychiatric diagnosis.
Not all critics of psychiatry are necessarily "anti-psychiatry," and even some affiliated with the movement raise important ethical and philosophical questions for psychiatry. Unfortunately, others seem to harbor a visceral hatred for "all things psychiatry" One has to look no further than the comments left by some on antipsychiatry websites calling for violence against psychiatrists and others in the field.
Both authors (of this article) have personal experience with antipsychiatry. One of us (R.P.) studied under Thomas Szasz during psychiatric residency training and has since written extensively on the logical errors in Szasz's work. The other (M.R.) identified for several years as a Szaszian psychoanalyst before more recently coming to disagree with Szasz's claim that mental illness is merely a "metaphor".
Both authors have come under personal attack by those associated with antipsychiatry and the related, but more nuanced, "neurodiversity" movement.