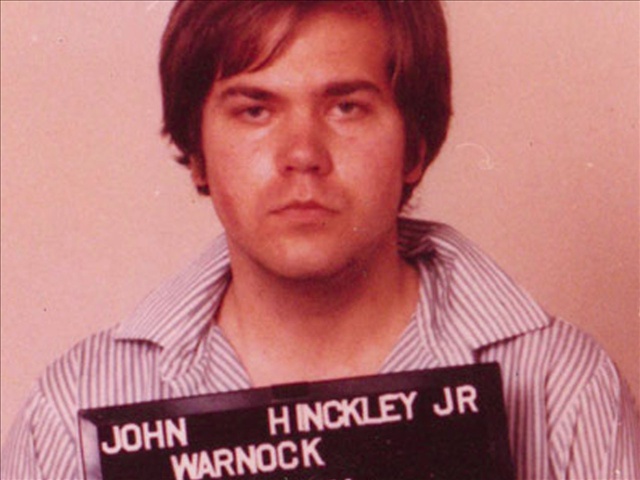 A front page story in The Washington Post yesterday was published under the headline: "Hinckley: Man on the mend or a danger?"
According to the story, a federal judge will decide the fate of would-be assasin John W. Hinckley Jr., this week after listening to five days of testimony.  Hinckley's family members, as well as his doctors and case manager, claim the now 56-year old Hinckley does not present a danger either to himself or to the community. The depression and unspecified mental disorder that drove him — along with his narcissistic personality disorder — to nearly kill President Ronald Reagan in 1981 are now all under control.
That's not so, prosecutors claim. They insist that  Hinckley, who has spent the past three decades in mental facilities,  is deceptive, lazy, and can't be trusted. The Post quoted Assistant U.S. Attorney Sarah Chasson stating, "Mr. Hinckley has not been a good risk in the past and, therefore, is not going to be a good risk in the future."
The judge is being asked to determine if Hinckley is "dangerous."  If he is, the judge will not grant him more freedom than the ten day visits that he currently is allowed periodically with his mother — while being monitored by the U.S. Secret Service.
I often am asked how "dangerous"  became the criteria that is used  to decide if someone is so mentally ill that he/she can be involuntarily held and forced to undergo treatment. The question is an important one, especially for those of us who have loved ones with mental disorders.
If you read my book, CRAZY, you know that I tried to get my son help when he suffered a psychotic break, only to be turned away by an emergency room doctor who said my son didn't meet Virginia's "imminent danger" criteria. Some forty-eight hours later, my son was arrested after he broke into a stranger's house to take a bubble bath.
The dangerous standard has become so widely accepted in the U.S. that it has become the de facto criteria that many insurance companies now use in deciding if someone who wants to voluntarily enter a treatment program will have their mental health care costs covered.
Most scholars credit the Lanterman-Petris-Short Act, which was approved by the California legislature in 1967, as the beginning of a civil rights movement in mental health law. But while the LPS, as it is known, opened the door, it was Lessard v Schmidt – a Wisconsin civil case in 1971 — that radically changed mental health laws.
After purportedly trying to kill herself, Alberta Lessard was involuntarily committed to a state facility where she was diagnosed as suffering from paranoid schizophrenia. She enlisted help from local civil rights activists who filed a class action lawsuit challenging the Wisconsin's civil commitment law. As was common at the time, involuntary commitment laws were unclear and broad. In Wisconsin, a "mentally ill individual" could be involuntarily committed if "he required care and treatment for his own welfare or the welfare of others or of the community."
Lessard's attorneys successfully argued that if the state intended to deprive an individual of his/her freedom in a civil commitment hearing, then that citizen deserved the same legal protections as an accused criminal whose freedom also was at risk.  The judge agreed and, among other things, ruled that persons with mental illnesses had a right to a jury trial, the right to appointed counsel, the right to remain silent, exclusion of hearsay evidence and proof beyond a reasonable doubt. In short, the Lessard decision caused a major swing in the pendulum.
 The Lessard case also established that immediate dangerousness had to be shown. There had to be evidence of  "an extreme likelihood that if the person is not confined he will do immediate harm to himself or others" otherwise, there could be no forced commitment. It was a popular concept born from the 1960s.  If someone is not hurting himself or anyone else, then why interfere?
The Lessard decision made its way to the U.S. Supreme Court, which sent it back to lower courts twice for revisions. In one ruling, the word "extreme" was replaced with "imminent danger." Eventually, the Wisconsin legislature reacted to the Lessard case by drafting a new civil commitment law that required imminent physical dangerous to self or others (homicidal or suicidal.) Other states soon began patterning their laws after Lessard and "imminent dangerousness" became the test.
It soon became obvious that  the "imminent dangerous" criteria was itself, dangerous. In one well publicized court case, a man who had a long history of schizophrenia who was sleeping under cars at night and eating his own feces was not considered to be a danger to himself or others because neither of those acts was proven to be harmful to his health.
Dr. Darold Treffert, a Wisconsin doctor and veteran mental health leader in the state, was among the first to document tragedies where clearly psychotic individuals died because they were not considered dangerous and could not be forced into a hospital, but were so psychotic that they literally froze to death in the streets during harsh winters, committed suicide or died because of circumstances clearly tied to their untreated illnesses. Dr. Treffert coined the term "dying with their rights on."
By 1995, thirty-five states and the District of Columbia had amended their civil commitment laws. Most dropped "imminent" and simply said a person had to be "dangerous." Others decided that judges could consider other criteria such as "gravely disabled" or "unable to care for self or others." 
Ironically, Wisconsin went even further in 1996 when its legislature modified its civil commitment laws. The new language allows commitment if there appears to be a "substantial probability" that the ill person "needs care and treatment to prevent further disability or deterioration" and " if left untreated… [will] suffer severe mental, emotional or physical harm…" and "[shows] an incapability of expressing an understanding of the advantages and disadvantages of accepting medication or treatment, and, of the alternatives to the particular medication or treatment offered, after the advantages/disadvantages and alternatives have been explained."
Talk about a swinging pendulum. The new law is certainly much different from what the Wisconsin legislature unleashed after Lessard.
The problem with using "dangerousness" should be obvious. A friend of mine was bringing her adult son home from his appointment with his psychiatrist in New York when they ran into a traffic jam on the Verrazano bridge. The doctor had just assured my friend that her son was stable. Without saying a word, the young man opened the car door and leaped to his death.
Ironically, in the same Sunday edition of The Washington Post, there was another story that caught my eye. It was about Thursday's fatal shooting of a campus police officer on the Virginia Tech campus in Blacksburg. The 22 year old shooter, who committed suicide after murdering the officer, was from a nearby town and had no known history of mental illness or known drug problems, the article reported. In fact, his friends saw nothing that would suggest he was dangerous.
Obviously, the judge in the Hinckley case is being asked to decide if it is safe to allow Hinckley more freedom. He is not being asked to decide if an "imminent danger" exists that justifies Hinckley being involuntarily held. That issue became mute as soon as Hinckley shot the president. Just the same, I am curious about how the judge will make his decision.
According to the Post, prosecutors will claim that Hinckley continues to be dangerous because since the 1981 shooting, he has:
1. had failed relationships with three women, all of whom, he met while they were patients with him in a mental hospital. In one instance, he invited two of them to the same party at the hospital at the same time.
2. that he lied twice about going to see movies, when he actually went into bookstores. On one occasion, he was seen scanning books about President Reagan, including one that described the attempted assassination.
3. that he looked up photos of a dentist on the Internet and then faked a tooth ache so he could meet her.
His therapists claim the three flaws cited above were simply examples of his "poor judgment." The prosecutor sees something more sinister. I suspect the judge will not know — even after listening to testimony for five days — if  Hinckley continues to be a threat. I suspect the judge will make his decision based on community safety or what's politically expedient.
What I do know is this. If Hinckley had not fired at the president, were free today, and his family was concerned about his actions and asked a court to involuntarily commit him based on the three flaws cited above, he would not meet the "dangerousness" criteria and his parents would be unable to force him into treatment.
Which brings me to the point of this blog. Predicting dangerousness is fraught with error. It is a foolish criteria.
How interesting then, that we have laws that prevent concerned parents and doctors from intervening when an adult is clearly psychotic (sleeping under cars and eating feces) until that individual becomes dangerous  — and then once that person crosses that line, we decide that the slightest oddity in their behavior — such as inviting two women to a party at the same time — is an ominious signal that the person is untrustworthy.