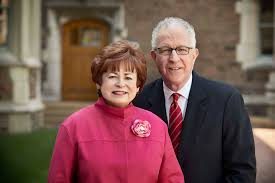 (2-20-18)  What would you do if you won the lottery? Everyone has thought about it. Instant wealth. Travel the world first class? Buy multiple homes? Expensive cars? Indulge yourself with luxuries?
Maxine Clark and Bob Fox are two St. Louis, Mo., based philanthropists who are using their self-made wealth to dramatically help others, especially children. Maxine's interest in kids should be no surprise. She's the founder of Build-A-Bear Workshops! (Yes, my granddaughter has three stuffed animals from our local store.)
I was lucky to spend time with Maxine – (Bob was sick with the flu) – when I spoke recently at the Spirit of Provident Annual Gala, a fund raising event and celebration hosted by Provident, a mental health provider  founded in 1860 by James Yeatman to help the sick and the poor in St. Louis. What you read is not a misprint. It was founded in 1860!
Provident was honoring Maxine and Bob at the gala, but the day before that event, the couple arranged for me to speak at the Clark-Fox Policy Institute at Washington University in St. Louis. My keynote was entitled Misguided and Misdiagnosed: Mental Health and the Criminal Justice System. After my speech, one of my favorite advocates, Susan W. McGraugh, a professor at Saint Louis University School of Law, who works with indigent, incarcerated clients, spoke eloquently about what services were available in St. Louis and what needed improvement. Later that night, Maxine hosted a private dinner for me with community leaders to discuss such topics as jail diversion, better police training, and affordable housing.
I explained that the first step is always for a community leader with clout (a judge, sheriff, or local official usually) to step forward and organize (force) all of those who have some connection with mental health/substance abuse (nearly everyone) to sit down at a table and find ways to collaborate. I said that night what I always say – that it is impossible to provide meaningful mental health services in your community unless you want to talk about supportive housing, job opportunities, easy access to mental health community services, transportation, specialized veterans programs, criminal justice reforms (such as jail diversion), helping children and giving people hope.