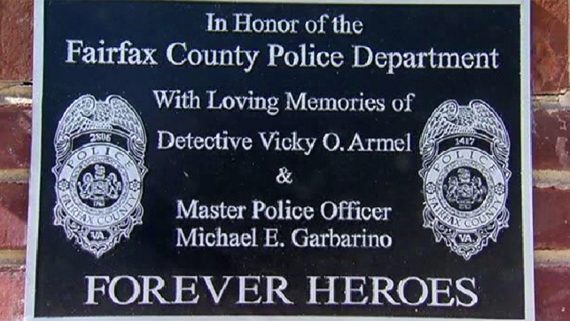 (5-4-18) Not a May passes when I don't recall the deaths of Fairfax County Police Officers Vicky O. Armel and Michael Garbarino who were ambushed by a mentally troubled young man armed with an AK-47 during an attack May 8th, 2006 at a police station near my home. They were reportedly the first Fairfax Police officers killed in the department's history. After their deaths, I wrote a tribute to Detective Armel published in The Washington Post because of how kind she had been to my son, Kevin, when he first was  arrested.
This was long before Crisis Intervention Team training became a priority in Fairfax, yet she had a big heart and was a devoted Christian who became a police officer to serve and protect, but also to help those in need. A taped message that she had made was played at her funeral during which she spoke about her decision to dedicate her life to Jesus Christ. She was a wife and mother of two. Her killer had fled from a mental facility. Officer Garbarino had been a police officer 23 years and also was survived by his spouse and two children. His widow, Suzanne, later lashed out at the father of the 18 year-old shooter who was convicted of two federal gun charges and heavily criticized for allowing his disturbed son access to a military style weapon.
What strikes me about my original tribute in the Post is how the figures that I cited have not decreased but increased from 700,000 persons with mental illnesses being arrested each year to 2.2 million being booked into jail today.
But the legacy that Detective Armel left behind is what I will always remember most. She treated my son with kindness setting an example for other Fairfax Officers to follow today through CIT training. The irony and horror that she was later murdered by someone with mental illness can not be forgotten. Along with Officer Garbarino, she will be remembered.
In a time when police officers often are criticized for their handling of individuals who are mentally ill, it is important to remember the Vicky Armels in law enforcement.