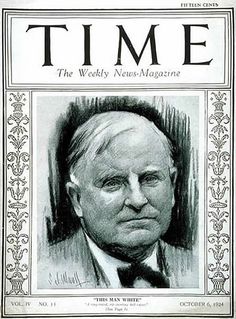 William Allen White was called "The Sage of Emporia" because he spoke for the common man in middle America.
(9-3-18) Nearly all of my blogs are about our broken mental health care system, but this one is not. It is about free speech and journalism.
In 1973, I began my first full-time job as a reporter at The Emporia Gazette, a Kansas newspaper made famous in the late 1800s and early 1900s by its editor, William Allen White.  His son, William Lindsay White, hired me while he was in a hospital dying of cancer. At the time, the newspaper gave all potential employees a writing test.  W. L. White declared, "This boy doesn't need to take any tests. You can tell from his (college) editorials that he knows how to write."
I worked at The Gazette for less than two years, but it was the best of the four newspapers where I worked during my reporting career, partly because of its managing editor, Raymond Call, a wonderful mentor.
So why am I writing about William Allen White and The Emporia Gazette on Labor Day?