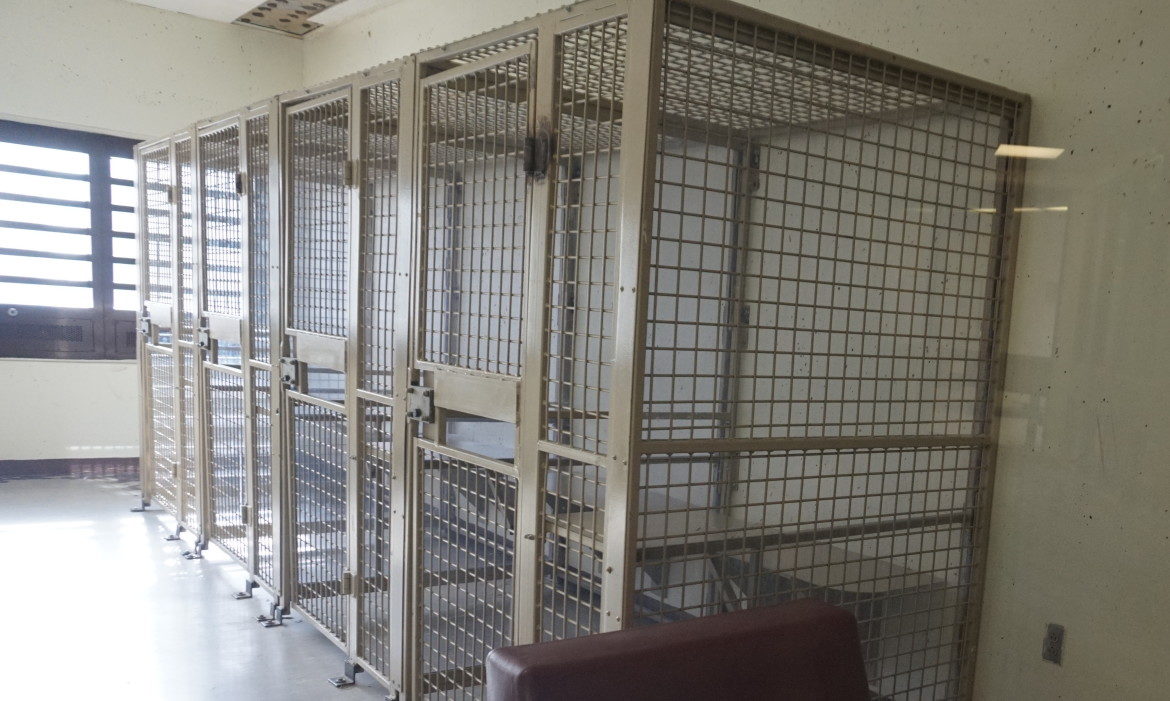 Nancy West photo: "Therapy booths" that look like human cages are used for group therapy at the Secure Psychiatric Unit at New Hampshire State Prison for Men. Courtesy of IndeptNH.
(5-12-20) Answer me this:
When does the clock start ticking on a 72 hour involuntary commitment hold? Does the countdown begin after a police officer drives someone to a hospital emergency room or when that private hospital sends the patient to a state psychiatric hospital?
Question two: Should a person with a mental illness currently being held in a maximum security prison be released if they have not been convicted of a crime?
Judges in New Hampshire are being asked to answer both questions in separate lawsuits.  Both are tied to a lack of psychiatric treatment beds in the state.
The Case of Jane Doe
Jane Doe (a pseudonym) had a "contentious interaction" with her adult daughter last September. Her daughter believed Doe was having a "psychotic break." Doe disagreed. The police were called and decided that Doe, indeed, was psychotic. She refused to go with them to St. Joseph's Hospital so she was taken into custody, given a sedative by EMTs, and, after being examined by doctors at the hospital, held against her will under an Involuntary Emergency Admission (IEA) petition.
Under state law, whenever an IEA protective order is issued, the subject of that petition is entitled to a probable cause hearing within three days. That is the standard across the U.S.. At the hearing, Doe would be provided with an attorney who would assist her in asking to be discharged.
There was no hearing. Not within 72 hours. Not within the next 72 hours or the next.
Doe was forced to wait until a bed became available in one of the state's five psychiatric care facilities. That's because those facilities are the only places IEA hearings can be held by the state, according to a report by journalist Jason Moon for New Hampshire Public Radio. There's an average of around 35 people a day in New Hampshire waiting for a bed.
With no bed available, the St. Joseph Hospital kept issuing IEA orders – six of them – until a bed at the New Hampshire State Hospital finally opened up. Once Doe got there, a hearing was held. Doe's daughter didn't show up to testify so Doe was released.
Doe ended up being "patient boarded" at St. Joseph Hospital for 20 days against her will apparently without treatment.
Patient Boarding Problem
Psychiatric patient boarding is when someone needs treatment for a mental problem but must wait in a hospital until a treatment bed becomes available. Kenneth Norton, executive director of New Hampshire State National Alliance on Mental Illness Chapter, has been complaining about patient boarding in his state since 2013 when he called the practice "medically, legally, ethically, morally and economically" wrong.
He told me in an email that patient boarding hit its peak in New Hampshire in 2017 when 70 adults and 27 children waited three weeks or more for a psychiatric bed. (Can you imagine rushing to an emergency room in the midst of a heart attack and being told you must wait three weeks before you can be treated?)
The patient boarding of Doe is one of five cases cited in a 2018 lawsuit filed by the American Civil Liberties Union against the state. The lawsuit alleges:
"Persons who experience mental health crises are involuntarily detained in hospital emergency rooms, pursuant to an IEA petition and certificate, without counsel, a hearing, or any process for challenging the detention. They allege that the hospitals are not equipped to provide treatment while certified persons await admission to designated receiving facilities.
In other words, persons in crisis are being held against their will without treatment and without a 72 hour hearing until a bed at a state hospital finally becomes available.
The state Department of Health and Human Services asked a judge to dismiss the ACLU lawsuit for a variety of reasons. The most creative was that the lawsuit "provides too much information and will take too long to answer." The state's major argument was that it wasn't obligated to hold an IEA hearing until a patient reached one of its state run psychiatric facilities.
Late last month, U.S. District Court Judge Joseph A. DiClearico, Jr., ruled against the state. He said the clock starts ticking for a 72 hour hold as soon as an IEA order is put into effect and the state is responsible for making sure that hearing happens. The judge cleared the way for the ACLU to move forward with its lawsuit.
NAMI's Norton hopes the lawsuit will force the state to end patient boarding by getting those persons who are judged in crisis into a treatment bed within the 72 hour time frame.
New Hampshire's Painful Past: Patients Become Prisoners
Of course, the reason for patient boarding is a lack of treatment beds and New Hampshire is divided much like every other state between advocates who want to expand bed capacity in state hospitals and those who argue for more community treatment services.
What makes New Hampshire different is its practice of housing patients who've not been convicted of any crimes in a maximum security state prison.
In the 1980s, after closing down most of its state hospitals, New Hampshire legislators passed a law that permitted civilly committed patients to be housed in a maximum security prison – even though there was no accredited mental hospital unit there at the time to help them. Citizens who had been judged incompetent to stand trial in criminal cases also were sent to the prison to have their competency restored. Using the prison was an alternative to building a new state hospital or a secure wing on an existing state hospital.
Which brings us to William Soler and the second question that I posed at the start of this blog.
In late 2017, the 41 year-old Soler told a clerk at a Concord gas station that someone had vandalized one of the station's gas pumps. When the clerk and another attendant went to examine the damage, Soler tried to strike them with his car. He later told police that he was upset because the station's manager had not offered him a job.
Soler was charged with numerous felonies, including attempted murder, but when he appeared in court, a judge ruled that Soler was mentally incompetent to stand trial and turned Soler over to the state. Because Soler was considered dangerous and there was no secure unit at the state mental hospital, he was whisked away to a maximum security prison.
In his petition, Soler argues that it is illegal to house him in prison because he has not been found guilty of a crime. He also claims he has been  "tortured" in prison.
The incidents that Soler recites in his lawsuit remind me of what I witnessed in the Miami Dade Detention Center when doing research for my book, CRAZY: A Father's Search Through America's Mental Health Madness. Correctional officers in Miami received no specialized training in how to handle prisoners with serious mental illnesses. They resorted to force, including pepper spray and physical altercations.
I've been told that correctional officers at the prison where Soler is being held receive 16 hours of specialized training and that two well-respected psychiatrists perform rounds there. Even so, prisons are not hospitals and Soler has repeatedly tangled with guards.
On April 10, 2018, he refused to move a mattress that he had leaned against his cell door. The guards reacted by shooting pepper spray into his cell. Once he was incapacitated, Soler was restrained as punishment. Pepper spray was used again that June. The incidents continued into this year when Soler was stunned with a taser before being placed in four point restraints, which means each of his limbs were tied down with him prone on a bed.
With no defined release date, individuals such as Soler can often spend months in jails and prisons. This puts the officers and prisoners both at risk. The spread of COVID-19 inside jails and prisons has raised new concerns.
It is especially worrisome during a deadly pandemic that patients judged incompetent to stand trial – often for minor offenses – are being held in jails awaiting restoration.
"Last year, the New Hampshire legislature appropriated 8.75 million dollars to build a secure wing onto the New Hampshire hospital," activist Wanda Duryea, who is helping Soler, wrote me in an email. "Unfortunately this year the money was still sitting there because the planning for the wing is not done and the funds were removed from the state treasury to purchase PPE. I am praying that that money will get restored along with another appropriation for $8.75 million so we can actually build that wing."
Hopefully that will happen, but much will depend on how COVID-19 impacts the state budget.
Soler's Habeas Corpus suit has not yet been heard. He has been waiting for a bed to become available at the state mental hospital for a year but the staff there apparently is reluctantly to accept him because of the altercations at the prison.
So he remains caught in the prison.
This leads to a third question: Is New Hampshire an outlier?