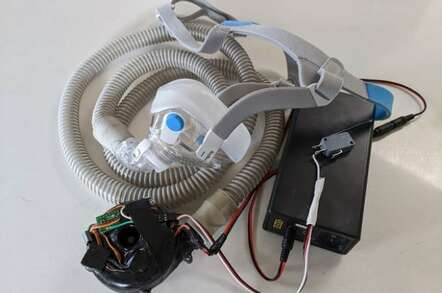 Photo by Johnny Chung Lee published in The Register
(4-17-20) Should patients with intellectual disabilities, profound mental retardation, dementia, and other cognitive problems (including serious mental illnesses) be denied life-saving ventilators if a hospital falls short of them during the Covid-19 pandemic?
Are the lives of individuals with mental issues worth less than other Americans?
The Alabama Department of Public Health thought so.
It adopted a protocol in 2010 entitled "Criteria for Mechanical Ventilator Triage Following Proclamation of Mass-Casualty Respiratory Emergency," that instructed hospitals to "not offer mechanical ventilator support for patients, who were being treated for heart attacks, metastatic cancer, "severe or profound mental retardation,"  "moderate to severe dementia," "severe traumatic brain injury" and other cognitive problems.
When that protocol surfaced recently,  The Alabama Disabilities Advocacy Program filed a complaint with the U.S. Health and Human Services Office for Civil Rights, accusing the health department of violating the Americans with Disabilities Act, which prohibits discrimination based on disabilities. The Bazelon Center for Mental Health Law joined in that complaint.
HHS forced the Alabama health department to rescind those recommendations to hospitals.
Alabama is not the only state coming under fire for targeting persons with mental and physical issues. Similar concerns have been raised about triage protocols in Arizona and Washington.
"Federal law prohibits allocating medical treatment based on a person's disability, which is exactly what Alabama's policy does," Rhonda Brownstein, legal director of the Alabama Disabilities Advocacy Program, was quoted telling the Advance Local news website.
Every state has a program like Brownstein's. They are known as Protection and Advocacy Agencies  ( frequently referred to by the acronyms PAIMIs or P & As.)
P & As and the Bazelon Center have been criticized, especially by parents of individuals with serious mental illnesses. Bazelon is largely responsible for establishing the "imminent dangerous criteria" that requires someone who is in the midst of a psychotic crisis to become dangerous before treatment can be offered. Oftentimes that leads to arrests and even deaths.
P & As and Bazelon were targeted when former Rep. Tim Murphy (R.-Pa.) and other Republicans held hearings about Murphy's Helping Families In Mental Health Crisis Act. Murphy's bill provided the foundation for arguably was the most comprehensive mental health reform bill in recent years. Rep. Murphy and his supporters wanted to restrict what P & As' could and couldn't do.
Origin of P & A law firms
Because of the horrific conditions during the 1900s in state mental hospitals, Congress created the Protection and Advocacy for Individuals with Mental Illness Act (PAIMI or P&A) in 1986. It authorized each state to create a watchdog to monitor how Americans with mental illnesses were being cared for in state hospitals and group homes. Money was funneled through SAMHSA and augmented by local charitable contributions.
As is common with federally-funded programs, these P & A agencies began expanding their mission as time passed. After passage of the Americans With Disabilities Act in 1990, the P & As attached themselves to the larger disability movement. Most changed their names to Disability Rights of (State), such as Alabama's did, and with that name change often came a shift in priorities.  Critics argued that the disability organizations began to focus more on disability rights than protecting individuals with mental illnesses in institutions and group homes as the law intended.
An sad example is the disAbility Law Center of Virginia (dLCV) which shamefully refused to investigate the 2015 death of Jamycheal Mitchell inside the Hampton Roads Regional jail. Mitchell, who had schizophrenia, had been arrested for allegedly stealing $5.05 worth of snacks from a convenience store. He died from "wasting away syndrome" in jail where he lost more than 30 pounds while waiting 101 days for a bed to become available in a state hospital.
How could a prisoner literally starve himself to death prompting a heart attack?
If there ever was a case that a P & A should have investigated, it was Mitchell's. Yet, Virginia's disAbility Law Center didn't. When the ACLU, Bazelon Center for Mental Health Law, NAACP, the National Alliance on Mental Illness, Virginia Chapter of Mental Health America, and The Washington Post all called for a federal investigation, the disAbility Law Center refused to join them.  (Justice Department officials later released a scathing report that concluded the jail's treatment of inmates amounted to cruel and unusual punishment.)
The disAbility Law Center similarly shirked from investigating the death of Natasha McKenna inside the Fairfax Adult Detention Center. Instead, it has focused on disability issues less likely to upset Virginia law enforcement officials, the governor and the state assembly.
Accused of helping patients say the right words to get discharged
Rep. Murphy and his supporters also accused P & A agencies of being anti-mental hospitals, championing efforts to get individuals with serious mental illnesses out of them regardless of how sick a patient might be and whether treatment services in the community were available.
The most grievous example cited during Murphy's hearings involved Maine's P & A's handling of William Bruce. He was reportedly coached by a disability attorney on what words to say in order to get discharged from a state hospital over the objections of his parents. Bruce left the hospital and murdered his mother with an ax.
P & As also drew fire at the congressional hearings because many oppose Assisted Outpatient Treatment, seeing it as forced treatment.
Former Rep. Murphy and the Republicans tried to prohibit P & A agencies from doing anything except investigate cases of abuse. Democrats successfully blocked that effort.
Since then, the Trump Administration has sought to accomplish what Rep. Murphy and Republicans wanted.  In its 2020 budget request SAMHSA called for cutting federal P & A funding from $36.1 million to $14.1 million, a decrease of $22.0 million, explaining: "Reductions are proposed due to the need to focus realignment resources on treatment for serious mental illness. PAIMI programs will continue to focus on addressing abuse and neglect issues for vulnerable populations." (page 136)
What often is ignored during this tug-of-war is that P & As and the Bazelon Center are necessary watchdogs. 
South Carolina's Protection and Advocacy For People With Disabilities successfully filed a lawsuit against the state to stop the inhumane treatment of state prisoners with serious mental health issues.
A sheriff in California confided in me recently that Disability Rights of California regularly visits his jail and he has been quick to address its concerns because of its reputation for filing legal action if its attorneys uncover prisoners with mental illnesses being abused.
I greatly admire two Disability Rights attorneys, whom I met in Seattle, who were aggressively protecting youngsters with mental illnesses from being abused in detention facilities.
During a recent trip to Miami, I was impressed how its P & A attorneys are investigating conditions in group boarding homes (assisted living facilities) where individuals with mental illnesses were living in squalor. They also are cooperating with Judge Steven Leifman's reform efforts.
I personally know and admire a dedicated P & A peer counselor who is taking heroic care of clients in New Jersey.
Critics may be correct in demanding P & As focus more on investigating abuses in jails, prisons, and group living facilities, but the shameful protocol that Alabama health officials drafted and similar recommendations in Arizona and Washington state clearly show that we need P & As and the Bazelon Center to give a voice to those who are most vulnerable.