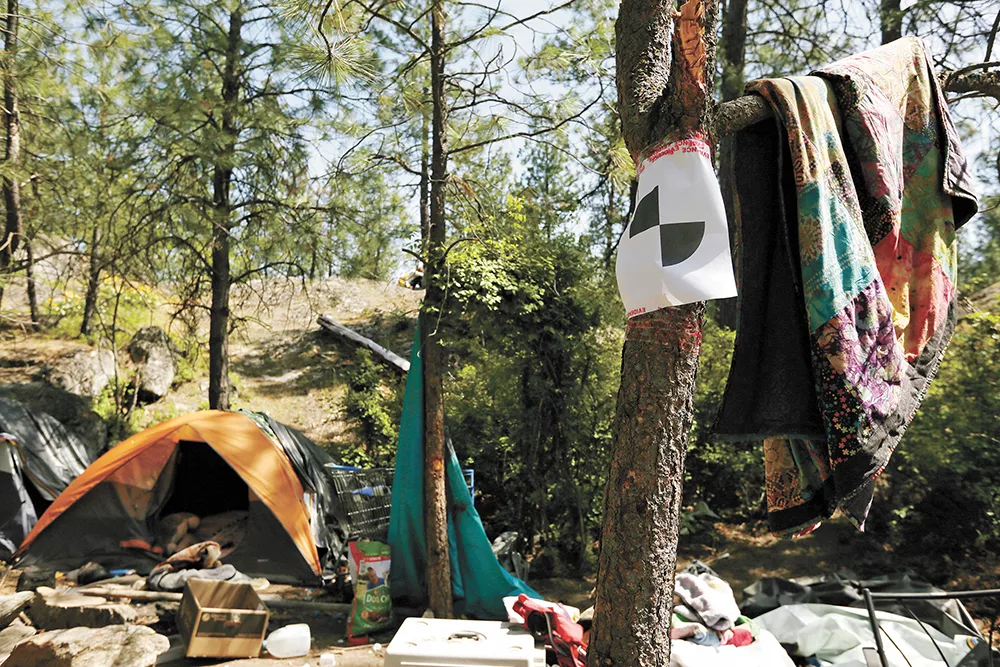 Deputies chased an unarmed Ethan, who had schizophrenia, into this camp where he was fatally shot. (Photo by Young Kwak/INLANDER)
(5-12-19) Justine Murray told me after she'd learned her son, Ethan, had been fatally shot that she would use his death to advocate for better police training and mental health care services.
I posted a powerful video of her earlier this month that was recorded shortly after she was informed that her 25 year-old son had been killed by a Spokane County Sheriff's deputy. The officer was responding to calls about a young man running around without a shirt on and 'acting strange.'" He pursued Ethan into a homeless camp. Ethan had schizophrenia and was not armed with any weapon when he was shot multiple times.
In a detailed article published by the Inlander, she recounts Ethan's struggles. Anyone who reads it will learn about how parents struggle when a child gets ill.  "There's other moms, other people that need help," she told the publication. "I don't think there will ever be closure because there just isn't. So I'm just turning it into advocating."
Bravo Justine! Keep Ethan's memory alive.
A Sandpoint mother feared that one day her troubled son would end up dead; turns out, nothing prepares you for it
Justine Murray, a 43-year-old owner of a boutique in Sandpoint, saw that her phone was buzzing with calls from the medical examiner's office while she was out for lunch with friends. She knew it had to be about her troubled 25-year-old son, Ethan Murray, who suffered from schizophrenia and meth addiction.
"I know what a medical examiner is," she tells the Inlander weeks later at the Tango Cafe in Sandpoint. "It was starting to set in and my heart was racing really fast. And I started shaking."
After leaving her table, she eventually got through to a staffer from the Spokane County Medical Examiner's Office.
"I'm like, 'Is he dead?'" Murray says. "She paused for a minute and then she's like, 'Yes.' And then I kind of lost it."
To read the entire article click here.
NON- Mental Health News
INSTANT BEST SELLER
COLLISION, my new novel co-written with former Speaker of the House Newt Gingrich, premiered at number five on national bestseller lists.
The plot involves an attempt by a Russian president – a thinly disguised fictional portrayal of Vladimir Putin – to poison unsuspecting Americans.
The novel blends fact with fiction. Our hero, Brett Garrett, struggles with opioid addiction. I'm most proud that COLLUSION has a non-fiction list of critics of Putin and journalists who have been murdered during his regime. It is outrageous – 7 Pages of Russians who have been killed because they told the truth about Putin and his kleptocracy. Based on my research, I believe Putin is among the most wealthy thieves in history and after reading COLLUSION, I hope readers agree. Click here to read an internet list of reporters murdered overseas doing their jobs.
Articles about the death of Thomas Silverstein, major character in my book, The Hot House: Life Inside Leavenworth Prison. 
My two blogs – announcing Silverstein's death and the federal prison systems complaints about it – led to the New York Times, Denver Post and Westword all publishing obituaries about how he was held under "no human contact" for more than three decades.  My Blog announcing his death.  Blog with BOP complaints. 
You can read the New York Times obituary here.
Coming Monday – Memorial Day
She was fighting terrorism in Afghanistan when she became depressed and ended her own life. Now some claim suicide means she's not worthy of honoring. Stigma and mental illness.