(9-18-17)  Is the writer and director who brought us the groundbreaking television show GLEE about to produce two seasons of a show for Netflix that will stigmatize Americans with mental illnesses and demonize those who help them?
That appears to be the case based on a news release sent to me by Laura Pogliano, an advocate who has written about her own son's death.
Director  "Ryan Murphy apparently loves spooky-ass mental institutions," the story declares as an explanation for why Murphy is bringing back Nurse Ratched from One Flew Over The Cuckoo's Nest. Titled Ratched, the series will "follow the Big Nurse's murderous progression through the mental health care system" as she evolves from "nurse to full-fledged monster."
What that means is a television series that will portray nurses and doctors in psychiatric facilities as being cold-blooded sociopaths eager to brutalize and terrorize patients, many of whom aren't really sick.
Surely, Mr. Murphy, who has announced publicly that he is gay, knows how harmful stereotypes can be, especially ones perpetuated by Hollywood.
Certainly, Mr. Murphy, who has been justifiably praised for launching a social justice program aimed at bettering the lives of minorities, must be aware of how many of the most dehumanized and ridiculed members of our society are those with mental illnesses and substance disorders who can't get help because medical professionals either don't want to work with them or can't earn enough from insurance companies  to practice their trade.
That being the case, perhaps Mr. Murphy can explain how his moral sensibilities and social conscience fit with a television series that will portray psychiatric facilities and those who work in them so negatively.
I am equally disappointed that Michael Douglas is listed as being involved in this project. Stories about his own son, Cameron, who is serving time in prison for heroin possession, have been the subject of painful gossip. We know that rushed deinstitutionalization without community treatment safety nets led to our jails and prisons becoming the dumping ground for individuals with mental illnesses and drug addictions, many of whom need  help in a residential setting that only is available to the rich.
Join me in sending a tweet to Mr. Murphy asking him why he is promulgating images of health care workers that are untrue and offensive. Spread the word on Facebook about how Mr. Murphy is portraying nurses, doctors and patients.
I will be sending a letter  (copy below) to Ryan Murphy via Paramount Pictures at: Ryan Murphy Productions, 5555 Melrose Avenue, Chevalier Bldg, Los Angeles, Ca. 90038, phone 323 956-5000. (If you get a better number, Facebook page or fax, please share it.) 
Trying to stop stigmatizing television programs is considered by some a waste of time. But last year, an onslaught of complaints from you convinced Rubies Costume Company to stop selling and to remove from its catalog its Razor Blade Suicide Scar Wound Latex Costume Make Up kit.
You will recall that Ron Thomas, the father of a young man with schizophrenia  beaten to death by the police while homeless, led a successful campaign against Knott's Berry Farm to close a virtual amusement ride that featured guests being strapped into a wheelchair and chased through a psychiatric hospital by a deranged patient.
And it was outrage by you that took executives at Disney/ABC Television to task for a tasteless Modern Family episode that ridiculed and marginalized our nation's veterans and millions of other Americans with mental disorders.
What is your response to someone who "loves spooky-ass mental institutions."  
Ryan Murphy thinks of mental hospitals and sees Nurse Ratched.
I see thousands of dedicated caregivers who face physical violence, at times,  trying to help people who are sick. I think of  Alex Wubbels , the Utah emergency room nurse arrested for protecting a patient's constitutional rights in a hospital. I think of Massachusetts' Nurse Elise Wilson (below) who was stabbed multiple times by a patient unhappy with his medical care.
They're the true face of health care workers.
True Face Of Nurses: Nurse Elise Wilson was stabbed multiple times in July by a patient unhappy with his medical care.  (Massachusetts Nurses Association/Massachusetts Nurses Association)
Ryan Murphy Is Making a 'One Flew Over the Cuckoo's Nest' Prequel for Netflix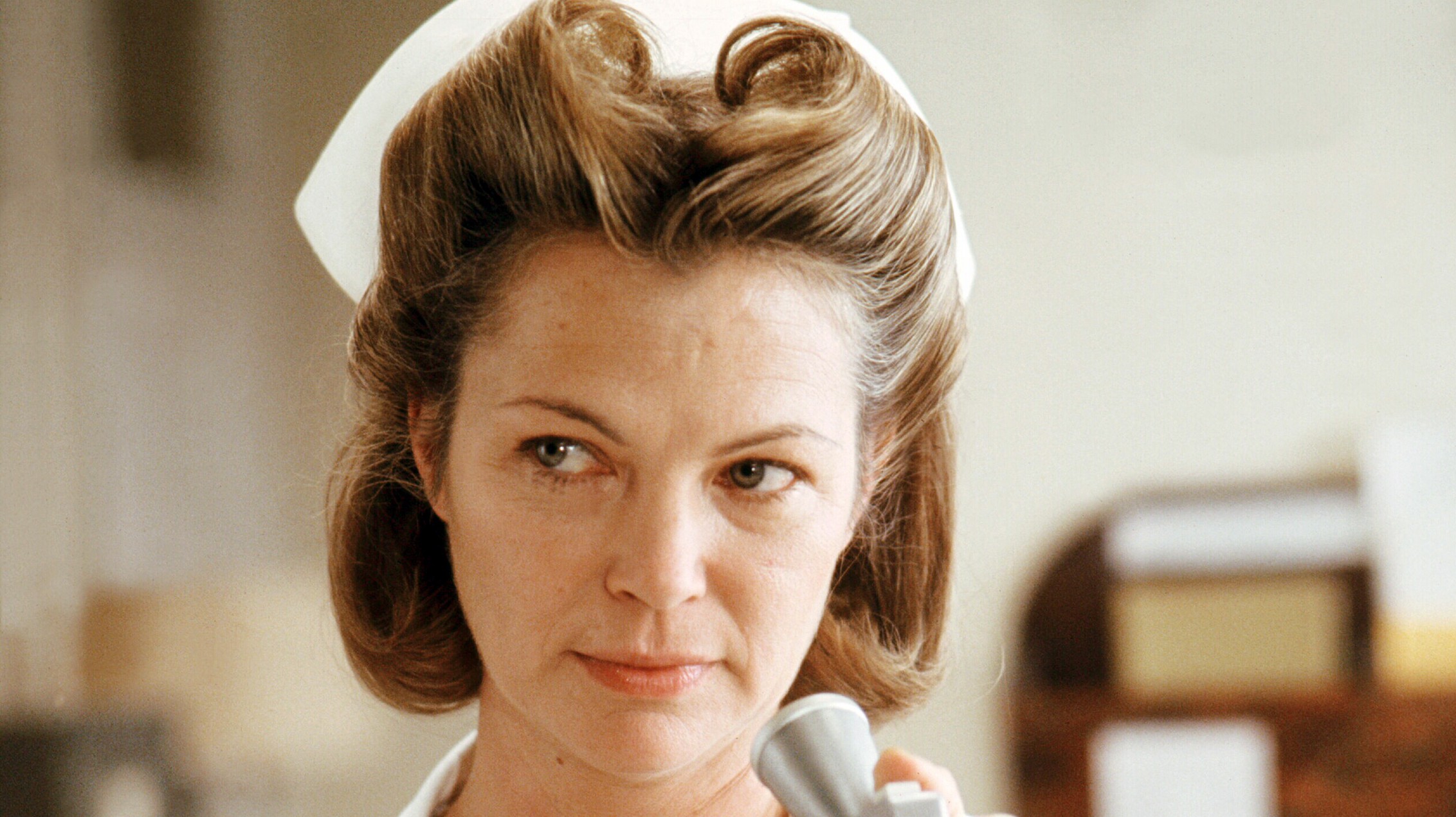 Louise Fletcher as Nurse Ratched in One Flew Over The Cuckoo's Nest. Photo by Silver Screen Collection/Getty Images

The Nurse Ratched origin story starring Sarah Paulson just got a two-season order.

American Horror Story creator Ryan Murphy's new series has found a home at Netflix, according to the Hollywood Reporter—and it's a One Flew Over the Cuckoo's Nest prequel, apparently.
Ken Kesey's 1962 breakout novel about a guy named Randle McMurphy who lies his way into a mental institution and a mute Native American patient nicknamed Chief Broom is full of characters with rich backstories waiting to be fleshed out. But Murphy's new series won't follow a young Chief Broom fighting for his tribal lands on the Columbia River or McMurphy's time as a Korean War hero or whatever. Instead, the series is set to explore the origin of arguably the blandest character in Cuckoo's Nest: the evil asylum head, Nurse Ratched.

Ratched is a pretty standard Big Bad in Kesey's novel, and even more so in the 1975 Jack Nicholson movie adaptation. But Murphy apparently loves spooky-ass mental institutions, and everyone is racing to develop villain origin stories these days, so now his Ratched backstory is headed to Netflix on a two-season, straight-to-series order.

According to Deadline, the appropriately titled Ratched will begin in 1947 and follow Big Nurse's "murderous progression through the mental health care system" as she evolves from "nurse to full-fledged monster."

The series is penned by newcomer Evan Romansky—who managed to get a spec script into Murphy's hands through his agent—and will star frequent Murphy collaborator Sarah Paulson in the titular role. Michael Douglas, whose father starred in the Broadway adaptation of the book and who produced the original Cuckoo's Nest film, is onboard as an executive producer. Ratched will go into production in 2018.
My letter to Ryan Murphy
September 18, 2017
Ryan Murphy
5555 Melrose Avenue, Chevalier Bldg,
Los Angeles, Ca. 90038
Dear Mr. Murphy,
As someone who has played an important role in helping fight stigma that greatly harmed individuals within the LGBTQIA community, I am writing to ask you personally how you can be developing a televisions series for Netflix that will promote an image of  "spooky-ass" psychiatric hospitals run by sadistic nurses and sociopaths?
In developing a series that will feature "evil asylum head, Nurse Ratched," you will be promoting a stereotype that will foster stigma against individuals with serious medical conditions and also demonize psychiatrists, nurses and other care givers who work tirelessly without much pay in mental health facilities treating the absolutely sickest of the sick.
As the father of an adult son who has been hospitalized five times, as the author of a book that exposes how our jails and prisons have become our new asylums because of deinstitutionalization (that was largely supported by the public because of the influence of  One Flew Over The Cuckoo's Nest but never supported with community funding,) and as the parent member of the Interdepartmental Serious Mental Illness Coordinating Committee created by Congress to investigate ways to improve the lives of individuals with serious mental illnesses, I would strongly urge you to reconsider your involvement in this two season series.
With the creativity that you showed in bringing Glee to television, I am certain you can find more worthwhile projects. It's time to ask yourself, if the money you can make off the backs of suffering Americans is worth the price of your reputation?
Sincerely,
Pete Earley