(3-6-17) While serving as the grand marshal of NAMI Collier County's walk, I was told that Naples, Florida is in the formative stages of opening "Jerry's House" for persons with mental illnesses.
It will be based on "Dave's House" in Orlando that was founded in 2009 by Lin and Ron Wilensky, to help others in the world such as Lin's brother, Dave, who suffered from schizophrenia.
And what inspired the Wilensky's to begin "Dave's House."
That's right, it was "Laura's House" that was purchased in 2006 by the Brain Foundation in Fairfax, Va., a non-profit  founded by Trudy Harsh. The house is named after her daughter, Laura.
This is what happens when one determined advocate (Trudy Harsh) inspires two other dogged advocates (Lin and Ron Wilensky) who then inspire the folks in Naples to follow the Dave's House model.
I've written about Trudy's Harsh and the Wilensky's before, but if you aren't familiar with Trudy's inspiring story, let me share it with you.
Trudy's daughter, Laura, developed a brain tumor when she was eight years old. Doctors at Georgetown Hospital in Washington D.C. were able to remove it, but they warned Trudy that Laura would only live for six more years at best.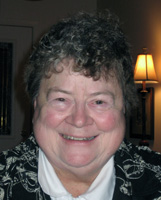 As often happens to persons who undergo traumatic brain injuries or have parts of their brain removed, Laura awoke from her surgery a completely different person. She was not the bright, sensitive and loving child to whom Trudy had given birth. The parts of her brain that controlled her emotions, especially anger, had been destroyed.
Doctors tried, of course, to use medications to help Laura control her moods, but neither she or her family were able to return to their former lives. Laura was disruptive in school and got into fist-fights with other girls. With an uncontrollable urge to eat, she packed on weight. One day, she was caught at school digging through garbage cans for food. Her Individualized Education Program (IEP) noted that she could not pay attention for longer than three minutes in a classroom.
Laura did not die, as predicted, and when it became clear to Trudy that Laura could no longer attend public schools or live at home, she arranged for her daughter to enter a residential school near Atlanta and later another cutting-edge school in Denver. At age 21, Laura returned home and was able to graduate from Chantilly High School here in Fairfax.
But brain injuries, much like mental illnesses, do not simply go away with time.
Laura continued having violent outbursts and emotional stability problems. Her obesity caused her a myriad of health problems
Trudy wanted her daughter to live as full of a life as possible — despite her brain injury — so she got Laura enrolled in an apartment program in Fairfax County, overseen by the county's mental health services board.
CAUGHT IN VICIOUS CIRCLE
Mother and daughter soon found themselves caught in a vicious circle. Trudy would fight to get Laura into an already overwhelmed and under-funded program, only to have her get expelled for violent behavior. When Trudy exhausted what Fairfax County had to offer, she went to other jurisdictions and even other states. She was determined that her daughter would not become homeless.
Sadly, Laura never did find a suitable program and she died from health complications living at home with her mother. Laura was 38 years-old.
In her quest to help her daughter, Trudy became a tireless advocate. She volunteered to serve on committees, went to public hearings, read report-after-report, and became totally frustrated with a bureaucratic process that seemed more interested in publishing studies, filing complaints, and talking endlessly about what to do, rather than actually doing anything.
So Trudy struck out on her own.
Luckily, she had her real estate license and understood mortgages, loans, and federal housing programs, so Trudy founded "The Brain Foundation" and began hosting fund-raisers to get enough money to buy a house — just one house — to help persons who had mental illnesses.
Although a tumor caused Laura's brain injury, her mother didn't see any difference between brain damage caused by surgery and brain damage caused by mental illnesses. After all, she said, the brain was just another organ and what did it matter whether it got damaged during surgery or by disease?
Hosting parties in her home and asking friends for contributions did not raise enough cash for Trudy to buy a house in the Washington D.C. area market — one of the most expensive in the nation.
Trudy did not give up — the need was too great.
According to a story in The Washington Post, someone with a mental illness could wait up to 18 years before an apartment or group home had an opening.
Trudy approached Wilbur Dove, an entrepreneur who was running his own nonprofit housing group and he agreed to seed her project with $50,000. Trudy used that $50,000 to obtain a $450,000 loan from the Virginia Housing Development Authority, which she spent to buy a four-bedroom townhouse in Fairfax County.
Once she had a house, Trudy cut through red-tape and got Pathway Homes, which provides residential care for persons with mental illness, to move four men into it. Pathway agreed to manage the property and keep track of its tenants, who pay 30 % of their income as rent.
Thus, the first "Laura's House" was opened. For most people that might have been enough, but not for Trudy. She continued raising money through grants and donations, and buying houses. It has not been easy. In a short sighted move, the Fairfax Board of Supervisors refused to offer the Brain Foundation a property tax break, charging it thousands of dollars for doing what the county failed to do – provided decent housing. But Trudy found a way to keep going.
Today, the Brain Foundation operates nine houses in Fairfax.
OTHER HOUSING ADVOCATES
Early on during my travels, I discovered that a determined member of NAMI developed a housing program in Delaware. More recently, one of my favorite advocates in Pinehurst, Marianne Kernan, opened  Linden Lodge, a 1970's rambler that was turned it into a seven bedroom residential facility with a garden and a multi-use building for art, music therapy, physical fitness activities and peer support group meetings. Six residents live in the debt free house. The Linden Lodge Foundation accepts no state or federal money.
I often hear people say, "What can I do, I'm only one person?"
I'm glad that Trudy Harsh, Lin and Ron Wilensky in Orlando, the folks who are launching "Jerry's House" in Naples and Marianne Kernan in Pinehurst answered that question with action, not words.