I had no idea.
I'd been a journalist for thirty years and written extensively about crime and punishment and society. But I'd always been on the outside looking in. I had no idea what it was like to be on the inside looking out – until my son, Mike, was declared mentally ill.
Read the first chapter of Crazy
Suddenly the two of us were thrown headlong into the maze of contradictions, disparities and Catch-22s that make up America's mental health system.
Crazy: A Father's Search Through America's Mental Health Madness is a nonfiction book that tells two stories.
The first is my son's. The second describes what I observed during a year-long investigation inside the Miami- Dade County jail, where I was given unrestricted access.
I feel more passionately about this book than any I have every written. Our nation's jails and prisons have become our new mental asylums. I wrote this book as a wake-up call to expose how persons with mental illness are ending up behind bars when what they need is help, not punishment.
Important note: The word "CRAZY" in the book title refers to the mental health care system.
Press for Crazy
Here is what others are writing and saying about Crazy:
Awards and Accolades for Crazy
2007 Pulitzer Prize Finalist
Outstanding Media Award for Advocacy by the National Alliance on Mental Illness
Ken Book Award from NAMI-NYC Chapter for "an outstanding literary contribution to a better understanding of mental illness."
Mental Health America 2007 Media Award
Washington Psychiatric Society Advocacy Award Winner for Coverage of Mental Health Issues
Eli Lilly Reintegration Award for Public Service Winner
The Mental Health Association of Rhode Island Advocacy Award
NARSAD – the National Alliance for Research on Schizophrenia and Depression – asked Pete to be an honorary committee member for its 2007 Mission Possible Event.
In addition, Pete was appointed to serve on a criminal justice task force created by Virginia Supreme Court Justice Leroy Rountree Hassell Sr. to review and make recommendations about the state's mental health laws.
He also was invited to join the Returning Home Advisory Commission of the Corporation for Supportive Housing which assists re-entry by persons from jails and prisons to reduce recidivism.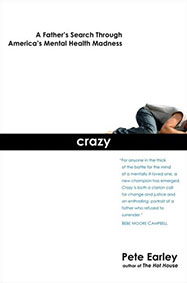 Crazy
A Father's Search Through America's Mental Health Madness
It was only when Pete Earley's own son–during a manic episode–broke into a neighbor's house that he learned what happens to mentally ill people who break a law. This is a compelling look at the thousands who suffer confinement instead of care and brutal conditions instead of treatment in the "revolving doors" between hospitals and jails. Earley takes us through his experience as both a father and journalist trying to fight for a better way.