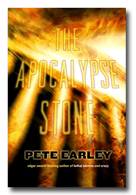 The Apocalypse Stone is actually my first novel, even though it was released by the publisher after The Big Secret (2004) and Lethal Secrets (2005). I wrote it before the Da Vinci Code was published and novels with a religious twist became popular.
As strange as it may seem, I got the idea during a dream.
Judge Evan Spencer seemingly has everything: a beautiful and extremely rich wife, social status, and prestige as a respected Virginia judge. But after he receives a smooth stone in the mail one day, his life begins to unravel.
Unbeknownst to him, the stone is a religious relic once touched by Jesus Christ. It gives Judge Spencer strange powers, but it also makes him confront certain ugly truths about his own hollow life. Spencer must solve the secrets behind the stone before it and his "sins" kill him
Get Your Copy of The Apocalypse Stone